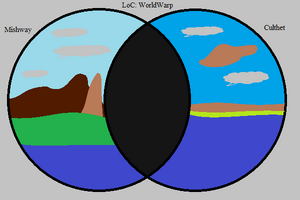 The WorldWarp is a time of tumultuous change! After uneventful eons of circling one another, the two progenitor planes of Mishway and Culthet drew coterminous enough that their very energies mixed together, a chaotic process that happened in bits and pieces, small sections being excised at first, and eventually the entirety of both planes had been consumed.
Visualization: http://www.youtube.com/watch?v=6mksOjilCrE
(footage shamelessly hashed together from Super Smash Bros Brawl)
Ad blocker interference detected!
Wikia is a free-to-use site that makes money from advertising. We have a modified experience for viewers using ad blockers

Wikia is not accessible if you've made further modifications. Remove the custom ad blocker rule(s) and the page will load as expected.